CMIT: Start Over Opps 4 AARP Crowd
By general
May 24, 2018
0 Comments
346 Views
In advance of CMIT Solutions' annual convention next week (Vancouver, WA), I reached out to CEO Jeff Connally for a check-in. Simultaneously I noticed a LinkedIn update for former Microsoftie Kevin Remde having secured a CMIT Solutions franchise territory for the Maple Grove, MN-area. Seems like a "start over" story for this techie in the works.

CMIT Solutions has grown to be the largest computer-related franchise in the US with over 200-locations. It has evolved from the days of Ms. Iceland in its doublewide booth at the SMB Nation 2008 Fall Conference
to emphasize technology solutions, not just a 'puter guy break-fix business model. What I believe sets CMIT Solutions apart is its unflinching commitment to marketing, learning and operations excellence. In its own words, CMIT Solutions says "…helping people and businesses to be more productive and to success through the intelligent application of information technology."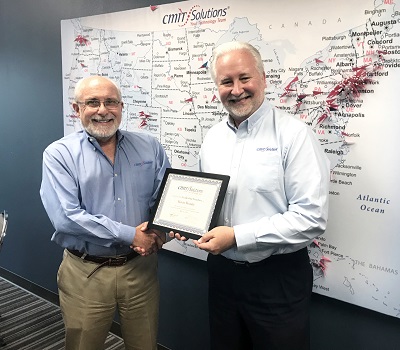 Figure 1: CEO Jeff Connally awarding Kevin Remde (right) his owners school completion certificate!
In my view, a franchise should be a few things for a new owner to enter a specific line of work. It should provide training (that's the above referenced marketing and operations excellence), promotion, collaboration (think of fellow franchise owners in non-competing territories as being in a peer group) and the ability to be instantly in business with a marketing bill of materials such as branding. I also liken the CMIT Solutions community as a way to fight owner loneliness (that's a true medical condition).
Ironically the core SMB Nation audience isn't necessarily the "best fit" for CMIT Solutions. Why? Because SMB Nation members, will aligned with respect to CMIT Solutions' demographic persona(s), are already experienced and established business owners in the tech sector. Not that many of "us" couldn't benefit from the CMIT Solutions "way" lemme tell ya.
One of the ideal CMIT candidate personas is Remde. Remde is north of 50-years old, received his severance after serving many years at Microsoft (some might remember Kevin as a Sr. Technical Evangelist on the vaunted Microsoft TechNet event and content motion. He is technically top heavy and, with all due respect, a corporate guy who has spent the bulk of his career signing the back of paychecks (endorsement for deposit) versus signing the front of the paycheck (making payroll). In short – the ideal CMIT Solutions candidate is seeking the next great thing post-corporate career (as a member of the hard core corporate enterprise "50+yo and out crowd"). What I like about Remde is what he alluded to in his "open for business" letter that I recently received: learning. Not only is Remde a continuous life learner but he espouses the passionate narrative of helping others "learn, learn, learn!" That makes sense given his role on the TechNet team. Coupled with CMIT Solutions' learning paradigm, it's about as good as it gets.
There you have it. CMIT Solutions has enabled Remde to tap his passion to marry his technical experience with a long-held desire to own a business and provide employment for others.