Silicon Valley Exhales: Dropbox Shares Jump More Than 40% In High-Demand IPO
By general
April 11, 2018
0 Comments
353 Views
Alex Konrad, FORBES STAFF
Covering venture capital, software and startups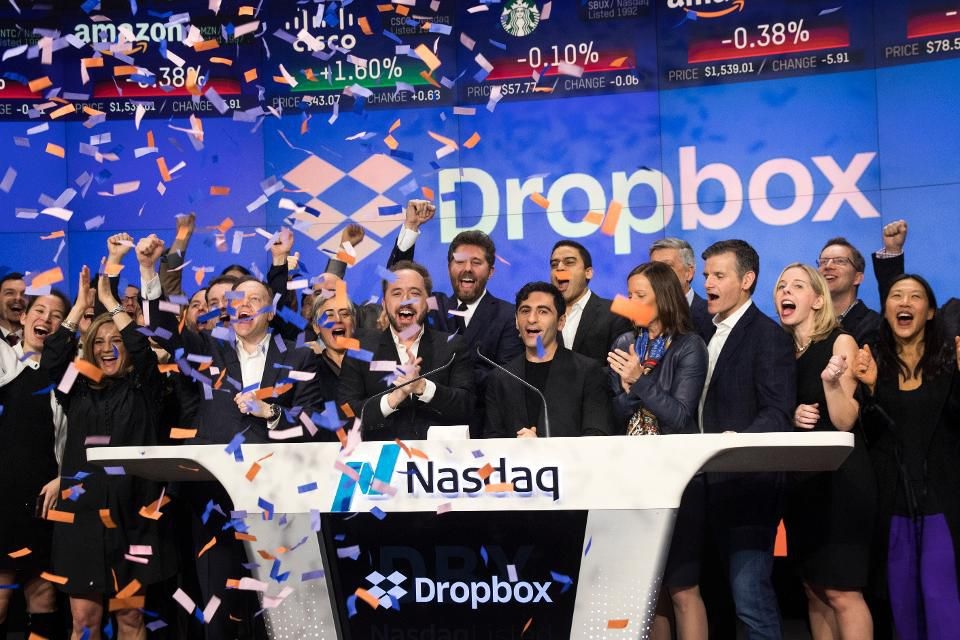 Dropbox made everyone wait. But its shares are now trading on the public markets after one of the most hotly-anticipated public offerings for a technology company in months.
Two hours after CEO Drew Houston and cofounder Arash Ferdowsi rang the opening bell at Nasdaq and after long minutes of the company's executives milling around Nasdaq's MarketSite center in Times Square in New York, Dropbox finally opened for trading at 11:35 ET as Houston grabbed a glass of champagne for a longer-than anticipated toast.
Shares of Dropbox were trading at $30.90, up 47% percent from the company's list price of $21, as of 12 pm ET, a major boost even in what has been one of Wall Street's most troubled recent weeks for stocks.
A collaboration software company known for its file-sharing tools, Dropbox was founded by Houston and Ferdowsi in 2007 and quickly became one of Silicon Valley's more closely watched startup companies. It reached a multi-billion-dollar valuation in 2011 and a $10 billion valuation in 2014, and reported revenue of $1.1 billion for 2017, up 31% from the year before. At its opening price of $29, Dropbox's market capitalization would be about $11 billion.
"The market and investors responded really well to our message," chief operating officer Dennis Woodside said in an interview. "What's interesting to them is, we built this enduring business that combines the best of consumer tech in its virality and ability to scale—with hundreds of millions of people using it around the world—with the predictability of a subscription business."
That positioning of Dropbox as a "consumerized enterprise" company, or a subscription software company that users bring home with them after work, has helped the company become one of the most scrutinized in Silicon Valley. In its regulatory S-1 filing for the IPO process, Dropbox had disclosed it had more than 500 million registered users, the majority of whom use the product for free: 11 million users pay for the service, according to Dropbox's filing, paying an average of $9.33 per month.
A key difference between Dropbox and many other software companies: the product mostly sells itself. Dropbox reported sales and marketing spend of $314 million in 2017, less than it spent on research and development. Box, an enterprise collaboration company most typically invoked as a foil to Dropbox, reported sales and marketing of $303 million for its fiscal year ending in January, on revenue of $506 million.
While Dropbox says its relatively low cost of customer acquisition helped separate it from other software companies for investors, Woodside credits the decision about three years ago to build product for business use cases as arguably the most important in its path to public company. Dropbox's business popularity had been a surprise to Houston and Ferdowsi, the COO says.