How it all started!
By general
April 10, 2018
0 Comments
363 Views
    Everything is clear looking in the rearview mirror.
    This is the story about how it all started with SMB Nation "back in the day."  I can literally share the first chapter of this book, right here, right now. What's not as clear is how it all ends; the final chapters have yet to be written LOL.
For Your Consideration
    Exhibit A below depicts the first newsletter I wrote in the SMB Nation community realm. It's about Small Business Server (SBS) of course. Look closely at the date and you'll see it was mid-2001; a timeline marker that only justifies the fact that life is short and time goes so fast. The first issue was only 400-readers; today we can click a button to hit 50,000 readers.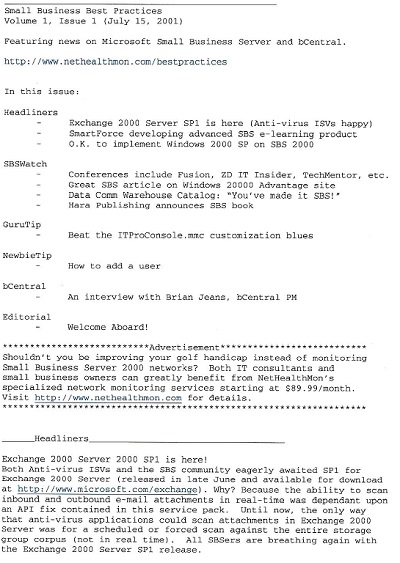 Issue 1-1
Just perusing the topics is worth the price of admission alone – and causes pause for reflection on where we were and, in essence, where we're at 17-years later. I'll speak to a few nuggets.
On the technical side, it was all about Exchange Server 2000 SP1, Windows 2000 SP and a deep dive into an MMC-based ITProConsole. There is even a newbie tip on how to add a user.
For the business side, there was a conversation with Brian Jeans, a senior product manager in the bCentral area. I'll be speaking with Brian Jeans in April 2018 and have an update on where he is today inside Microsoft. I make mention of a few conferences (who remembers FUSION?!?!?). And I concluded with a welcome editorial. PM me if you'd like me to email you the entire Issue 1-1 newsletter (it's several pages long – all text back in those days!).
Looking forward
Over the years and beers, we built an avid enthusiastic community on the back of SBS. It'd be easy to fast forward the movie and simply say we've evolved with the times but the story is much richer than that. We've tried over two dozen startup ideas; most weren't successful. Some ideas didn't see the light of day. Several ideas were home runs such as our exploration of Microsoft Response Point, Cisco UC and VoIP. Today we're exploring analytics.
We've made countless friendships along the way. But like any journey, we've lost a few friends due to death, divorce and irrelevancy. I celebrate the community we built and still have and stay focused on the positive. Everyone reading this blog can count grievances and resentments on two-hands but that's not really news.
Anyways
There you have it – a focus on how it all began. BTW – did you look closely at the original name for SMB Nation? It was NetHealthMon which was an RMM play using the SBS Health Monitor before Level Platforms, Kaseya or nAble capitalized on that opportunity. What's also interesting is that the "channel partner" (aka MSP) wasn't part of our conversation yet; we were focused on the SBS product stack!
Talk to Me!
So what's your day zero story? PM me.