Annual Look at IBM – Part One
By general
March 27, 2018
0 Comments
430 Views
I've just returned from IBM PartnerWorld (inside of the Think conference) and over the next several blogs, I'll share my experiences. Long story short – I got hand it to IBM for inventing itself continuously and having crossed a decade+ in the analytics field. It declared that, in the IBM partner ecosystem, 2018 is the year of simplicity. I hear that three times: simple is hard! 

Concerning channel partners, there were four pillars messages to launch the PartnerWorld conferenceand it's 2,000+ attendees. 
   
Enabling ecosystem transformation. 
The basic premise that IBM is marking it easier for Business Partners who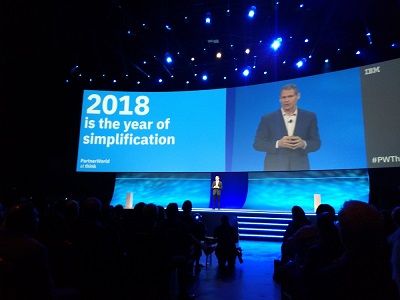 currently resell IBM technology to shift between engagement models and move up the client value chain with flexible benefits and support through PartnerWorld, its premiere partner program. Simplification means IBM has consolidated the number of competencies offered and believes it's added to relevancy to product authorization so that partners can get higher recognition. For those carrying the bag, here is how it works. To help partners get greater insights into their partner journey, IBM has added features to the Program Console and PartnerWorld Advisor. Additionally, IBM touted adding enhancements for partners that want to embed IBM technology into their solutions, including new bundled partner benefits and expanded SaaS trials, sandboxes, IBM Cloud credits and development assistance for those who want to build new solutions on IBM technology. Finally, IBM asserted it will continue to expand our marketing development funds, further aligning them to partners that are building new skills in areas like digital marketing so they can reach new clients across new routes and drive demand when they are ready to go to market. 
On the surface, this is all good but an interesting piece from well-known SMB Nation fan Jay McBain, now a analyst at Forrester, shared deep insights into the speed of partner transformation here. https://go.forrester.com/blogs/ibm-channel-executives-are-frustrated-with-the-pace-of-partners-transformation/   He is well qualified to do so having spent 17-years inside IBM/Lenovo and the basic premise of Mcbain's piece is that IBM is frustrated at the partner's transformation pace. 

Another well-known analyst, Joe Panettieri (ChanelE2E), asserted that IBM is a humble bumble here. https://go.forrester.com/blogs/ibm-channel-executives-are-frustrated-with-the-pace-of-partners-transformation/ Panettieri correctly captures that "work in progress" spirit of the executive comments in his reporting. 

Three more pillars
As promised – here are the other three messaging pillars for your consumption. In Part II of my installment, I'll share interviews with IBM executives Carola Cazenave (VP, IBM Global Business Partner – Ecosystem Strategy & Programs), John Teltsch Jr. (General Manager – Global Business Partners) and global build winner Paola Mazza (referenced below). In Part III of my coverage, I'll share insights from IBM Business Partner QueBit and its success with analytics. 
Introducing Watson Build 2.0, the AI challenge to build new IP. The second iteration of our Watson Build challenge will help even more partners develop AI skills, build working prototypes of Watson-based solutions on the IBM Cloud in less than 10 months and incubate their ability to embed IBM technology faster. Last year, the first Watson Build challenge drew more than 1,300 firms to IBM design thinking workshops, spurred 400 AI-based business plans and enabled more than 100 partners to advance and develop new embedded AI solutions. Our 2017 global winner, Italian partner Blueit Group, took home the grand prize for its precision farming solution, which is designed to disrupt the agrifood industry. In phase 2, we expect even more partners to join the movement by dreaming up the next big prototype for their industry and make it a reality. 
Launching a new, digital self-service platform. Designed for partners who are building and selling solutions with integrated IBM technology, the platform provides access to leading-edge technologies and offers technical support, pre-built code patterns and skill-building courses. Partners can also take advantage of several promotional offers to help them get started building quickly with IBM Cloud, AI and data, including 10 TB of IBM Cloud Object storage, 100,000 conversations using IBM Watson Assistant and USD 50,000 in migration services for partners migrating over USD 20,000 per month in workloads from a competitor's cloud. Once partners are ready to take their embedded solutions to market, they can list them on the IBM Marketplace and extend their reach to new clients globally. Businesses can further extend their access to resources by joining IBM developerWorks or by becoming a member of IBM PartnerWorld.
Expanding IBM's digital footprint with third-party cloud marketplaces. Over the past year, we have doubled down on IBM's presence with third-party marketplaces and cloud aggregators. In 2018, we signed new deals with AppDirect and ALSO Deutschland GmbH, which means that partners and clients can now find IBM offerings in a total of 10 different cloud platforms and reach more than 60 million new customers worldwide. New and existing partners can reap the benefits of these new routes to market as new customers bundle IBM technologies with other complementary catalog offerings and partner services. This provides a new integrated route for partners to serve their clients digitally.
These new initiatives build on IBM's next-generation ecosystem framework, which will go into effect April 10, 2018. As part of IBM's increased commitment to its partners' growth, IBM will launch a restructured engagement model designed to improve the end-to-end partner experience and reward partners for shifting to higher value solutions that are aligned to strategic growth areas like AI, cloud, security and as a service offerings. In the new model, partners have an opportunity to experience greater profitability by contributing value through intellectual property, focusing on new clients and building new solutions.