SMB Digital Transformation: Why, When, Where and How?
By general
February 23, 2018
0 Comments
552 Views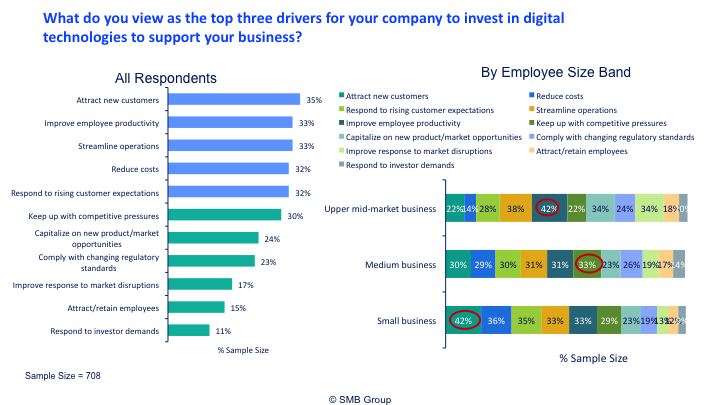 SMB Group's 2017 U.S. Small and Medium Business Digital Transformation Study reveals that today's small and medium businesses (SMBs) have tuned into the digital revolution. As noted in Pulse Check: SMBs and Digital Transformation, roughly three-quarters of SMB (including small (1-99 employee), medium (100-999 employee) and upper midmarket (1,000-2,500 employee) businesses) decision-makers agree/strongly agree that digital technology is impacting their businesses and industries.
So, why, when, where and how will SMBs place their digital bets?
Why: Drivers for Digital Transformation
The top reasons that SMBs are investing in digital technology are to attract new customers, improve employee productivity and streamline operations (Figure 1). However, the top-ranking driver varies fairly dramatically based on company size as follows:
Small business: attract new customers

Medium business: keep up with competitive pressures

Upper midmarket: improve employee productivity
Figure 1: Top Drivers to Invest in Digital Technology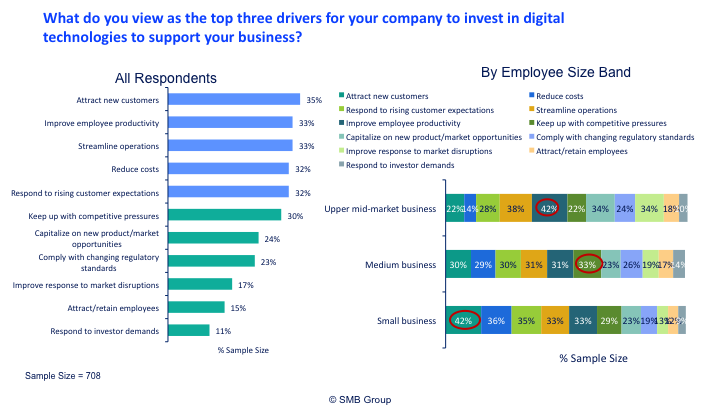 When: Most SMBs Are in the Planning Phase

Survey results indicate that 48% of SMBs are currently planning to engage in activities that will help them adapt and transform their businesses for a digital future. Meanwhile, 36% are already implementing activities to support digital transformation, and 16% have no plans underway.
Phase of digital transformation correlates strongly with company size (Figure 2). Upper mid-market and medium businesses are 2.6 and 1.9 times more likely, respectively, to say they're currently engaged than small businesses. In addition, younger companies–those that have been in business less than 5 years–are twice as likely to be currently involved in activities to support digital transformation.