Why Aren't You Using Pinterest?:
By Herman Pool
November 20, 2012
0 Comments
383 Views
Kat / Vertical Axion
Pinterest is just for creative souls that want to share their products with the world, right? Not even close. In fact, Pinterest just crossed the 10 million unique visitor mark faster than any standalone website in the history of the Internet.
Still not convinced? Maybe this will give you a helping hand: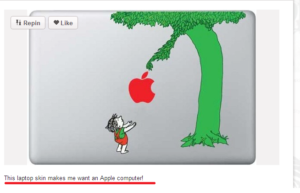 Did you happen to see the caption at the bottom? It says "This laptop skin makes me want an Apple computer." Now, if you're in the market of selling Apple Airbooks, here is a whole market you are missing out on. This one skin has thousands of repins, which reach hundreds of thousands of people. What if you had been the original person to pin this to your "ideas for your Apple computer" board?
Pinterest Addicts People
Have you ever been on Pinterest? It's impossible to get away from it once you get latched on. In fact, they have an incredibly high "average time on site," and that time could be used exploring your products and your pins. The website is full of "visual candy," making it easy to get stuck on an idea or realm of product for hours.
There's Tons of Crossover Top Categories
The skin you see above has been pinned in "Apple," "The Giving Tree," "Home," "Kids Ideas," "Computers," "Electronics," and "Awesome Ideas," just to name a few. There's tons of crossover potential, and some of those categories grow each and every day.
Not Just for Marketing
Sure, you can use Pinterest for marketing, and it would be a good idea to start doing that right now. However, that doesn't mean Pinterest isn't good for a ton of other stuff. For one, it's great for research. You can see what your audience may be looking at by just typing in a keyword related to your niche. For two, you can find other like-minded people and network with them (and pin their excellent and useful ideas).
So what are you waiting for?