Getting Back to Business after Hurricane Sandy
By Herman Pool
November 16, 2012
0 Comments
211 Views
Kat / Vertical Axion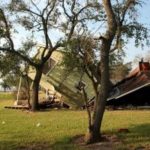 Since small business is called the backbone to America's economy, it's obvious that we've taken a good number of direct hits to our spines in the last few weeks. Recovery has been impossible as back-to-back storms hit the east coast, and many businesses have been severely damaged or nearly destroyed. In addition, personal residences have also taken a huge hit, and many people are left without their businesses or their homes. In the midst of that kind of chaos and loss, it's hard to think about anything other than straight survival.
However, eventually the storms will pass, and restoration will inevitably happen. So, as for everything that happens in life, there is something to learn from this particularly potent situation.
Always Be Prepared – No Exceptions!
Most of the businesses that have been wiped out still have one essential thing that will help them recover quickly: their data. A very large chunk of the businesses that lost their physical locations still have the data that was on the computers because of storage on cloud devices and other remote backup services. It's important to always make sure your data is protected in case something like this happens. Businesses had over 48 hours of warning before the storms struck, and yet 1 out of every 5 still didn't prep their data. Don't let this be you.
Have the Ability to Run Aspects of Your Business Remotely
There was a prominent man in the wireless company Verizon that, during the storms, was essential in keeping the network up for those who were suffering the worst effects of the storm. He transferred power, reprogrammed cell towers, and utilized different satellites during the storm. The result was that even though people sat in dark houses wrapped in blankets, they could call their loved ones and access the Internet to update others and stay updated as well. This man was located in the heart of the storm, but luckily for him, he had made plans to run his business remotely from a laptop and a smartphone from home on generator power.
It's your job to keep your customers updated and content, even when tragedy hits. Though people will understand if they don't hear anything from you during a storm like that (and many will actually be patient and understanding), it's a great opportunity to wow your clients by keeping them up-to-date and making sure the services they've purchased from you are still running.