Learning to Network Like a Professional
By Herman Pool
May 18, 2012
1 Comment
1028 Views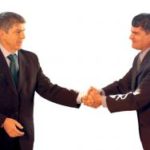 If you ever want to be successful at business, extensive networking is requisite. However, that doesn't mean everyone who owns a business is inherently good at networking, and for some it's an acquired skill. If you're no good at knowing the exact way to talk to people to accomplish something, going to networking meetings could be a waste of time. But that doesn't mean you shouldn't go; those who aren't natural at networking can make networking events both meaningful and profitable by following some simple advice.
Prepare Before You Go
Even professional networkers practice their skills before they go to an event. If you don't have your information and proposals firmly practiced, being charming isn't going to get you very far. Instead, go to an event ready to network. Practice your "me in fifteen seconds" speech so you can effectively steer any conversation in a promising direction.
Knowing who you're going to try and win over as a business companion is a good place to start: most events have rosters of people who are going. Figure out who's going and talk to them before you show up so they have an idea of who you are before and after the event. Social media, such as Facebook and LinkedIn, is a great way to connect to potential associates before you meet them.
Be Flexible at the Event
Since you've already networked with some of the people at the event, you should have a decent idea of who does what. If you don't, listen in and talk to other networkers to see what they do. If one of them meets the criteria you've established for what you want in a partner, strike up a conversation with them, even if you hadn't planned to.
Don't be afraid to change strategies at a networking event. If all of the leads you had before the event aren't working out, talk to new people. If your pitch makes people turn the other way, don't be afraid to abandon it. Having a few back-up strategies for talking to people is essential – and don't forget about just plain old talking to get to know them instead.
Make Sure to Reach Out Afterwards
After the event, look at all of the connections you made. Choose the most valuable ones and do some follow up contracting. You can do this via the phone or a social media platform. Get to know each other a little better and see what you can do for them. Don't worry about making a sale or getting them to purchase something. Worry more about actually making them someone you may be able to use to your advantage later. Honestly, you can't force someone to buy something, so as long as you make them aware of you and your services in a friendly manner, they'll come to you when they're ready. Maybe they'll come to you when they find someone who needs a service you do, too.
Go to Source
Author: Kat