How to Beat Out Your Competition
By Herman Pool
May 16, 2012
0 Comments
921 Views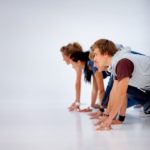 Competitors are everywhere, and just because an industry is saturated with them doesn't necessarily mean they stop showing up. Many beginner entrepreneurs hesitate when entering a market they dream of working in because of the saturation problem; even so, new competitors pop up almost every single day. However, that doesn't mean that you can't leap into almost any market and make your mark: your success doesn't hinge on finding a completely empty market, but rather on defining your company as the best of the entire industry.
So how can you become a success, even in an industry that's full to the brim?
Fill a Gap in Your Market
Just because you're planning on creating a business that already has a solid niche doesn't mean that all subcategories of that niche are full. For example, suppose you've decided to create a company that makes websites for people. That's a pretty common idea. But let's say instead of just flooding the market with yet another one of those companies, you start somewhere smaller and form a partnership with a particular organization. Even though you don't always have to stick to that particular organization's members, you can always offer them a reduced rate or extra website features when a new member comes aboard your program.
Build Your Company around Your Customers
Especially when the environment is challenging, it's vital to let people know that you focus on the customer even when others may not. If you're opening a store in an area that has a lot of stores that do what you do, then creating an environment where the customer feels "known" by you is essential. For example, if you're opening a one-store operation, knowing your customers' names when they walk in the door can create a relationship with repeat customers. You can also send out "happy birthday" rewards to let a person know you care about them as individuals. Forming a relationship with customers can be the difference between you and the guy down the street.
Don't Undercut When It Comes to Price
Having competitive pricing is never a bad thing, but undercutting everyone so you're "the cheapest out there" is never a good idea. Even price matching other companies can be dangerous, but not nearly as dangerous as always setting your prices below competition. Why? The lower your prices, the smaller your margin – and since most companies are willing to make next to nothing to grow their customer base, you may be making absolutely nothing to grow yours. The lower the price, the less sustainable your operation will be.
Instead, focus on competing with service. When the other guy is offering the whole deal for $10, you can be offering it for $12 with exceptional customer service. Maybe your hotlines are open 24/7 and maybe you include a free checkup once a month; but whatever you do that's unique should justify the price people are paying. Studies actually show that it's not about the price, it's about the quality – people are willing to pay more for something when they think it's worth it.
Go to Source
Author: Kat